Swedic SW-11500 Outdoor Power
Product number: SW-11500
€ 9880,-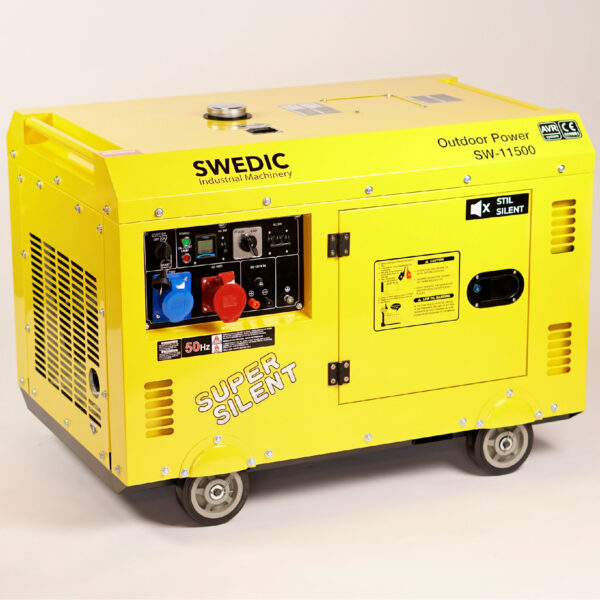 Swedic SW-11500 Outdoor Power
Product number: SW-11500
€ 9880,-
Click thumbnails to view image




Description
Swedic SW-11500 Outdoor Power
Diesel generator set silent / easy open type
This powerful 10kVA diesel generator set is equipped with both a 32A 380V and a 230V connection. The set is very suitable for events and such.
The generator is equipped with an oil security. This prevents damage to the engine. If the oil level is too low, the engine is automatically switched off. Also, a red light flashes on the control panel.
Technical specifications:
Frequency 50Hz
Rated AC voltage 230V / 400V
DC output 12V / 8.3A
Rated output (400V) 10 KVA
Max. output (400V) 10,5 KVA
Rated output (230V) 8 KVA
Max. output (230V) 8,5 KVA
Rated current (400V) 16A
Rated current (230V) 32A
Speed 3000rpm
Sound level (@1m) 87 dB
Fuel tank capacity 30L
Consumption 3,44L/hour at maximum power
Isonorm 9001
Standard features
Volt meter
Hertz meter
Oil warning light
Electric starter
Equipped with 16A 400V 5-pin plug and 32A 230V 3-pin plug.